Chapter Two
Very Long John
Together they would travel
On a boat with billowed sail,
Jackie kept a lookout perched
On Puff's gigantic tail.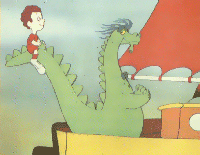 It really was a gigantic tail again. For once Puff left the confines of Jackie's bedroom, he returned to full dragon size. Jackie, riding tall in the tail, scanned the horizon and spotted another ship.
"AHOY!" he shouted to the H.M.S. Bicycle, which was manned by a crew of living playing cards.
"AHOY!" they shouted back, and all the picture cards bowed down.


Noble kings and princes
Would bow whene'er they came,
Pirate ships would low'r their flag
When Puff roared out his name.


"Pirates?" cried Jackie, terrified once more. He slid down Puff's tail and landed in the dragon's arms. "I don't want to see any pirates! Puff, I'm afraid . Take me home."
Puff looked quite surprised. "Jackie, didn't you know? Once you set out for Honah Lee, there is no turning back. To find your way home, you must first find Honah lee."

Suddenly there was a thundering sound, as if all the storms in creation had combined into one. A huge wave billowed under the boat, lifting it higher and higher. Then the wave seemed to turn in to a huge hand, the smallest finger of which was bigger than Jackie. The thunder turned into an earspliting peal of laughter, which rolled out of a gigantic mouth at the bottom of an enormous, ugly face that leered down at them with malicious fury.

Jackie screamed, for he recognized the great giant pirate in his nightmare window-shade drawing.
"GOTCHA!" roared the pirate. "YOU'LL NEVER GET AWAY!" He was as tall as a skyscraper and as strong as a barrel of eathquakes, and he sloshed through the raging sea as if it were a schoolyard puddle.
"Now that is a pirate!" said Puff. "I'M LONG JOHN! V-E-R-Y LONG JOHN BLACK AND BLUEBEARD KIDD," he chanted. "I'M BIGGER THAN BIG, AND HERE I REIGN. I'M THE MAIN SPANISH PIRATE OF THE SPANISH MAIN!"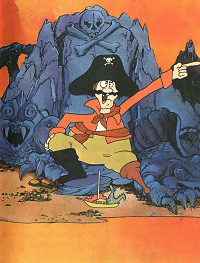 "He certainly is very long," said Puff. "SILENCE!" roared Very Long John as he brought the boat to an eerie, desolate island with a tall, angry-looking volcano in the centre, surrounded by many smaller mountains and cliffs. One of the cliffs had a large skull and crossbones painted on the side. the pirate placed the boat down and, glowered at Puff and Jackie, burst into thunderclaps of laughter once more.

The awful sound hurled Jackie to the deck. He picked himself up and hid behind the dragon. "What are you going to do with us?" he shouted.
"HAVE NO FEAR. I WILL THINK OF SOMETHING - TERRIBLE!" roared the pirate.
Jackie went tumbling again. He got to his feet and ran to the magic dragon. "What do we do now, Puff?"
Puff smiled calmy. "He said it, Jackie. Have no fear."
"I'm scared to have no fear." "Jackie, the first step in not being afraid is to see things as they really are. Watch!" He blew a magic ring of dragon smoke, which floated between Jackie and Very Long. The biy looked through the ring, and instead of a giant pirate, he saw a huge, friendly baker with a white apron and chef's hat.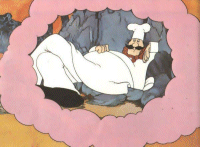 "Puff, you mean underneath al that pirate stuff, Very Long John Black and Bluebeard Kidd is just a baker at heart?"
The dragon sucked back the smoke as if it were a strand of spaghetti, nodded yes, and said, "Take care of him, Jackie. Use your wits. You can do it."
Jackie turned and walked across the deck until he faced the huge pirate, alone.
Very Long laughed, picked the boy up with one hand, dropped him, then caught him with the other. He roared, "WELL, LITTLE BOY, WHAT ARE YOUR LAST WORDS?"
Jackie must have had a very brave thought, for instead of answering the pirate with words, he sang, "Can you bake a cherry pie, Very Long, Very Long? Can you bake a cherry pie, Very Long John?"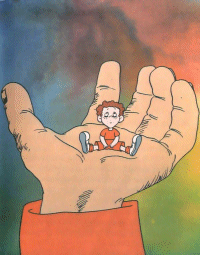 The huge pirate was stunned for a moment. Then he rose tot eh challenge and sang back at Jackie, "I CAN BAKE A CHERRY PIE - QUICK AS A BAT CAN WINK ITS EYE! PUMPKIN, PEACH, AND HALF A DOZEN OTHERS!"
Somehow Jackie sensed he had the upper hand. He relaxed a bit, and, leaning against the pirate's thumb, he said, "I don't believe you. You're a pretty good pirate. But a baker? Never!"
Furious, Very Long tightened his hand about Jackie and roared again. jackie wondered if he had gone too far with the big felloe.
"I WILL DESTROY YOU!" roared the pirate. "BUT FIRST I WILL MAKE YOU EAT YOUR WORDS!"
He dropped Jackie down on the deck, turned, and dashed back to the volcano at the centre of the island, opened a door in the crater, and proceeded to bake a great stack of steaming pies. Presently, he came back and placed the pies down on the deck next to Jackie and Puff. "EAT!" he commanded.
And eat they did, all night long and well into the following day. Finally, when the last pie pan had been scraped clean, Puff looked up and said, "I adore eating my words, but your pies are ever so much better."
"Best pies I ever tasted in my whole mouth," agreed Jackie. Very Long looked down at them and giggled with delight. "Really? I have never been so happy!" And then he began to cry great tears of joy, which poured down on Jackie and Puff like rain. Puff took out his umbrella.
"Oh, if only I could be a friendly giant baker instead of an evil giant pirate. But no! My father was an evil giant pirate. All my family have been evil giant pirates! for generations!"
"But you can always change," said Jackie. "Everyone can change. Can't they, Puff?"
"So I'm given to understand," said Puff, winking at Jackie.
Jackie looked up at Very Long again. "Just make up your mind and do it! And you're so big you've just got to have lots of mind to make up~"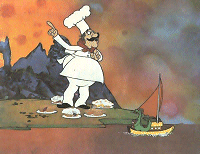 The next day, Very Long John, dressed in his baker's suit, gently placed the boast into the water and, with a hearty breath from his great lungs, sent it sailing towards Honah Lee once more. He waved farwell to his friends and cried out joyfully, "I am a new man! No! I am an old man with a new heart! Thank you both! and Godspeed."
Soon Very Long and his island were jsut a speck on the horizon to Jackie and Puff. they could hear him shouting a promise in the distance: "I'll send you a fruitcake next christmas."